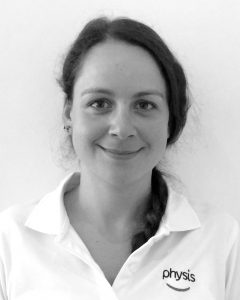 Ola Szyszczakiewicz
Specialist MSK Physiotherapist
BSc(Hons)(Phys) MCSP
Professional Experience
Physiotherapist at Physis
Special Interests
Sports PhysiotherapyBike fitting
Clinics:
Edinburgh
My adventure with physiotherapy started when I hurt my knee and went to see a physio. I thought that this is the best profession in the whole world! No surgery, no intervention, just amazing advice. Through my hard work and physiotherapist guidance my knee was fixed! (Weekly maintenance still needs to happen).
I qualified in 2012 at Queen Margaret university in Edinburgh.
After my experience at NHS and in the private sector I decided to direct my energy to the later.
I am the senior physiotherapist at Merchiston Castle School supporting young athletes. Especially 1st Xv.
In a wide variety of clinical settings, I see individuals with acute injuries but also those suffering from persistent pain. I also see orthopaedic patients guiding them through their rehabilitation process.
Apart from my work I love outdoors especially if it is Up a hill, steeper and longer the better!