Upper limb physiotherapy
All areas of our body can develop pain related problems, and we see all sorts of problems in the upper limb. Pain can result from trauma from sports or simple falls, or from doing very little, like sitting at your desk! Upper limb physiotherapy should produce an accurate diagnosis and unpick what has caused the problem.
Common problems we might encounter and treat in the clinic will include: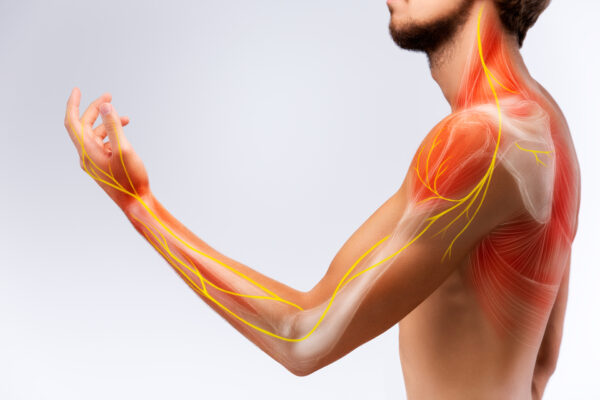 Acromioclavicular joint sprains
Thoracic outlet syndrome
Rotator cuff tears, or tendinopathies
Sub-acromial impingement syndromes at the shoulder
Adhesive capsulitis / frozen shoulder
Slap lesions
Shoulder dislocation / operative stabilisation
Fractures at all levels
Biceps tendinopathy
Entrapment Neuropathies – including Carpal tunnel
Tennis elbow
Golfers Elbow
Sprained wrist
Osteoarthritis of the thumb
Finger sprains
All non-specific upper limb pain of unknown origin. Basically if it is sore, we should be able to help you, or point you in the direction of someone who can.
We will use a variety of different treatment methods, depending on your problem. These might include:
Taping, or splinting (thermosplinting or off-the-shelf)
Manual therapy – joint mobilisation, soft tissue massage
Exercise rehabilitation – progressive muscle strengthening, stretching, progressive exposure to loading.
Re-education of movement control
Shockwave therapy
Dry needling
Biodex Isokinetic – assessments and training
Behavioural modification / training analysis
Ergonomics – work related positional advice
Regardless of where the pain is coming from, we will be able to provide a thorough assessment and diagnosis and if appropriate provide you with a personalised treatment approach to resolve the issue. The body has an amazing capacity to heal. Providing that environment really helps.
To find out more about this treatment or to make an appointment at any of our Edinburgh physiotherapy clinics, please call us on 0131 478 4646 or email [email protected].