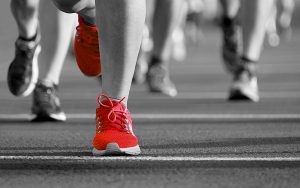 What is a sports physiotherapist?
A sports physiotherapist is simply a specialised physiotherapist. Sports physiotherapy is a specific branch of musculoskeletal physiotherapy which deals with injuries and conditions related to sports people. There is no specific course to be a sports physiotherapist but they generally have a range of skills which make them slightly different from your normal musculoskeletal physiotherapist.
Sports injuries can differ from everyday injuries. Athletes normally place a higher level of performance and demand upon their body, which stresses their muscles, tendons, ligaments, joints and bones to their upper levels of capability.
So what skills should a sports physiotherapist have?
Sports physiotherapists should ideally have sports specific or relatable knowledge that can address the injuries of a wide range of sports. Their services need to take into account the differences in presentation of injuries between male and female athletes, younger and older athletes or just athletes engaged in sports at all different levels of competition.
A sports physiotherapist needs to have a range of skills for diagnostic, manual therapy and exercise rehabilitation purposes. In pitch side care these will include sports first aid/trauma management, taping and massage but also the ability to make decisions under time constraints and to work within a sports medicine team.
The particular psychology and physical attributes of athletes make the assessment, treatment and rehabilitation different to the same types of injuries within the normal population. They must offer support and be able to communicate with a range of people around each athlete, such as coaches, managers, strength and conditioning coaches, sports and exercise scientists. In addition the sports medical team they need to communicate with may well include sports physicians, orthopaedic consultants, dietitians, podiatrists and psychologists.
Does Physis have sports physiotherapists?
At Physis we have a number of physiotherapists with a wide range of sporting experience who can help you or your team recover from sports injuries , sports related conditions or surgery and get you back to fitness as soon as possible. The team have worked at:
the Commonwealth Games
Cricket World Cup Events
International Rugby Matches
Premiership Football and Pro Rugby teams
NFL Europe – American football
as well as a wide range of sports including:
rugby
football
athletics
swimming
cycling
gymnastics
golf
hockey
lacrosse
basketball
Call us on 0131 478 4646 to make an appointment on you can book online. If you check our profiles you will see which sports specific areas we have experience in.